Geo tour of Serbia
Explore different geological sites in Serbia and enjoy beautiful nature and diverse culture. Visit mines and drink coffee with miner, hike through the Natural Park Iron Gate and different special nature reserves in Eastern Serbia. Admire frescoes in our monasteries and finally taste delicious food and fine wines. Welcome!
Price per person from 433 eur (program based on 10 persons)
Supplement for single room: 90 eur per person
Price includes:
-Transfer according to the program
-Guide during whole tour
-Accommodation in private pension on Srebrno jezero, private pension in Donji Milanovac, 4* hotel in Kladovo, 3* hotel in Bor, 3* hotel in Nis, Konaks of monastery Studenica, Hotel Mećavnik 4*, Hotel in Belgrade 3*
-Lunches and dinners according to the program - OPTION

-Ride by ferryboat on day 1 - OPTION

-Boat ride on day 4 - OPTION

-Jeep ride on day 2 - OPTION

-Wine degustation on day 5 - OPTION

-Train ride on Sargan Eight - OPTION

-Entrances according to the program - OPTION

Price does not include:
-Flight to/from Belgrade
-Drinks during meals
-Other costs not offered in this Program
Day 1. Belgrade- Avala – Smederevo - Kovin – Ram - Srebrno Jezero (BLD)
Arrival in Belgrade, pick up of the group. After refreshment, follows sightseeeing tour od main sights of Belgrade: we will have relaxed walking tour in city center: Kalemegdan fortress - primary bulit by Celts in the III century BC. Gorgeous view from the lookout at the confluence of the Sava and Danube and Novi Beograd is an excellent place for photographing. Walking near Republica Square, Knez Mihailova Street - main pedestrian and shopping zone, Terazije, Parliament, St. Mark's church. Panoramic sightseeing of the city (you will see Sava Temple the largest Orthodox Church currently in use), and departure to Avala. Avala is situated 15 km from Belgrade and with its peak at 511 m above sea level is recommended for outings to all nature lovers. Lunch in one of restaurants on our way. Departure to Kovin, break for lunch in one restaurants on sand dunes of Deliblato. Trip to Ram Fortress. We will take a farryboat across the Danube River. You will be enchanted Bayezid II built Ram in 1483, following completion of the nearby town of Kuliča. Today, the fortress is a symbol of Serbia's rich culture and history. Arrival on Srebrno jezero, dinner at the restaurant and overnight stay in private villas.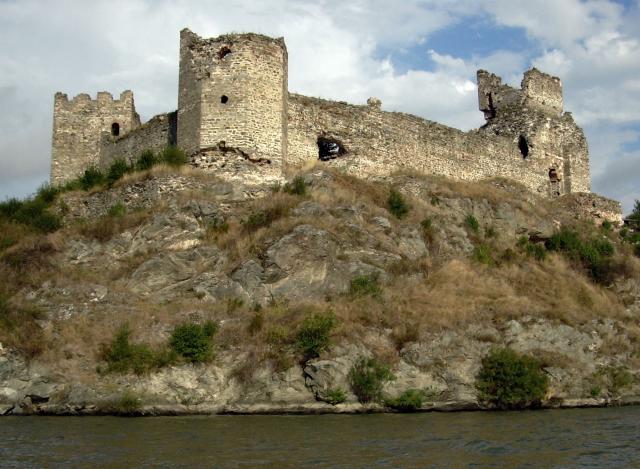 Day 2. Srebrno jezero – Veliko Gradište – Monastery Tumane – Golubac - Dobra – Lepenski Vir – Donji Milanovac (BLD)
After breakfast, we will take to short sightseeing tours of Veliko Gradište. Departure to Tumane monastery, situated 10 km from Golubac in beautiful and unpolluted natural environment where peace and silence are disturbed only by Tumanska River. Further, we will visit Golubac, one of the best preserved medieval fortified cities in Serbia. It is located on a rocky slope, at the very entrance to Iron Gate gorge, and its lowest part juts out into the Danube. Stop for sightseeing. On 25th kilometer downstream from Golubac, near antic locality Castrum Nova, Dobra village, as place of clean and unpolluted nature, can be reached by Iron Gate main road. Here one can see many items from previous centuries: cradle, traditional costume, carpets, dishes and pottery, crude rugs... We will organize traditional luch in this village, where you will degistate traditional homemade specialties. Jeep ride tour, exciting experience which will show you great nature and landscapes. Follows departure to Lepenski Vir, a series of Mesolithic villages located on a high sandy terrace of the Danube River. In June 2011. there is opened a modernly equipped visitors centre Lepenski Vir. Continuing of the tour along the Danube toward Donji Milanovac and visiting "Open Air Gallery" on Djerdap Lake. Dinner in a beautiful enviroment and gethering with the naive sculptor, the host. You will try specialties of Vlachs cuisine: breaded nettle, Đerdap corn bread, goat cheese with dill, lamb and pork meat roasted on a stick... delicious. You will have a chance to prepare brandy (rakija) and enjoy in its flavor. Free time for leisure on this beautiful eko-ethno complex, with amazing view on our strongest river – Danube River. Overnight stay in pensions.
Day 3. Donji Milanovac – Rajkova cave - Majdanpek – Crnajka - Donji Mailanovac (BLD)
After breakfast, your local host will take you on one exciting hiking tour. The hiking trails of Iron Gate do not require hiking equipment. The slopes ranging from 5 to 20 percent on these trails are easy negotiated. You will walk through path Kovilovo. We will take you around 10km in car, enjoing in untouched nature. After driving, follows nice easy walk, in duration about half hour. On this way we will follow a small river, see rock's layers from the earliest time. After short brake, we will take a time to drive to Rajkova cave, a protected speleological locality, which along with its surrounding represents a geo-park in eastern Serbia, in the vicinity of the town of Majdanpek. You will have oportunity to enjoy in gold washing with a man who done the same thing in Australian rivers. Visiting of Majdanpek, famous for its mine. We will see Valja Prerast ("Plain Natural Bridge"). Traditional lunch in household in village Crnajka where you will try homemade specialties and rakija. Sightseeing tour and trip to Donji Milanovac. Dinner and overnight stay in Donji Milanovac.
Day 4. Donji Milanovac –Tekije - Diana – Fetislam - Kladovo (BLD)
Breakfast, boat ride to Tekije. We will see most beautifull part of Iron Gate with Trian Tabula. Arrival to Tekije, ride toward hotel in Kladovo. On our way to Kladovo, we will make stop for sightseeing of Powerplant. After taht follows visiting of Diana Fortress, which represents the hugest and best preserved Roman Fortification /castrum/ on the Danube. Than, next on our way is Fetislam. The fortification is situated in Kladovo on the bank of Danube. Fortess was built in 1524 by the Ottomans and had strategic importance during the Austro-Turkish conflicts. The Turkish garnison stayed up to 1867. Arrival at the 4* hotel on the Danube shore. Free time for spending on beautiful beach, pool or walking. Dinner and overnight stay at the hotel.
Day 5. Kladovo – Vratna monastery – Rajačke pimnice – Negotin – Bor (BLD)
Breakfast at the hotel. Follows way and visit of Vratna monastery, that lies hidden between the high peaks of Miroc Mountain. Visiting of Jabukovac village, specific for its nature, where we will take a break for drink in one specific, untypical cafee. Departure to Vratna Monastery which, located at the very entrance to the famous Vratna stone gates. The entire complex of Vratna, its village, bridges and the Monastery is surrounded by rivers and forest representing one of the most significant attractions of Negotin area. After this we will go further to Negotin, to visit Rajacke Pimnice, a compund of wine cellars belonging to the village of Rajac, located 2 km to the west of the village, along the vineyards, on top of Beli Breg hill. The compound is densely clustered, built spontaneously, following the terrain. Lunch in household where you wil have oportunity to traditional cuisine. Departure to Bor. Accommodation at the hotel, dinner and overnight stay at the hotel.
Day 6. Bor - Zajecar with Gamzigrad – Knjaževac - Timacus minus - Ravna Village – Nis (BLD)
Breakfast at the hotel. Sightseeing tour of Bor, mine and museum. Experience an adrenaline rush during the Bor mine tour, 400 meters underground through the "11th horizon" while getting familiar with the beauties of Eastern Serbia. This one of a kind Bor mine holds the largest artificial prospect in Europe, with a terrace for beautiful panoramic view representing unusual sights of Serbia. Departure to Zajecar and visiting famous Felix Romulina. Visiting of museum in Zajecar. Departure to Knjaževac, village Ravna and Timacus minus arheological site. Break for a lunch. Follows trip to Niš, arrival and sightseeing tour. Check in at the hotel, dinner and overnight stay.
Day 7. Niš - Đavolja Varoš – Brus – Blace - Studenica Monastery (BLD)
Breakfast at the hotel. Way to Đavolja varoš. Stop for visiting of Mediana, important arheological site from late Roman period. Departure to Đavolja Varoš, a peculiar, located in south Serbia on the Radan Mountain near Kuršumlija. It features 202 exotic formations described as earth pyramids or "towers", as the locals refer to them. They are 2-15 m tall and 4-6 m wide at the base. These formations were created by strong erosion of the soil that was scene of intense volcanic activity millions of years ago. Most of the towers have "caps" or "heads" of andesite, which protect them from further erosion. Lunch and depart toward Studenica monastery. Arrival and dinner in monastery. Overnight stay in monastery's konaks.

Day 8. Studenica monastery – Maglić – Žiča monastery – Zlakusa - Mokra gora (BLD)
After breakfast at the monastery, we you will see main church of Studenica, and monastery treasure house from 12th century. Stop for sightseeing of Maglić, medieval fortification. Departure to monastery Žiča, which was the seat of the Archbishop (1219–1253), and by tradition the coronational church of the Serbian kings, although a king could be crowned in any Serbian church, he was never considered a true king until he was anointed in Žiča. Waythrough Kraljevo city and short panoramic sightseeing. Departure to Ethno village Zlakusa, known for its production of ceramic. Above all, Zlakusa offers the creation of ceramic pots and artistic ceramics in the ancient way, on the hand rel, and their baking in the open fair. International fine art colony of ceramics is helde every year during the August. Lodging, food and work are carried out in the households of Zlakusa village, which are stil practicing this kid of craft. Lunch in Ethno house, tipical village house, where guests will degustate mopst delicious serbian cuisine. Departure to Mecavnik, an ethno village, established by famous Serbian film director Emir Kusturica. It consists of wooden houses, precisely log huts, which preserved the authentic of this part of Serbia. Mecavnik has also a church, restaurant, souvenir shop, gallery, cinema Underground, national restaurant, weave workshop, and many other things that makes your stay unforgettable. Streets in this town are named after famous persons from culture, science, sport, such as the main street of Ivo Andric, street of Ernest Ce Gevara, Diego Maradona, Felini, Bergman. Soon, one street will be named after Novak Djokovic. Dinner in ethno restaurant on Mecavnik. All products that you can taste are homemade: natural juices, lemonade, Boza, draft beer, and there are specialties of Sarajevo - a different kinds of pies. Together with famous train Cira and Sargan Eight, this is one of the most attractive tourist destinations of Serbia. Dinner at the hotel, overnight stay.
Day 9. Mećavnik – Topola and Oplenac - Belgrade (BL)
Breakfast at the hotel, departure to Sargans Eight on train ride. After that, folows trip toward Belgarade. On our way to Belgrade we will make stop in Topola and Oplenac, two beautiful spots in the heart of Serbia that serve as the resting place for Serbian kings of the Karadjordjevic Dynasty. The Karadjordjevic mausoleum is located in Oplenac. Beautiful vineyards abound in Topola and wine degustation in Royal vine cellar. Late lunch in traditional restaurant, in pure nature environment. Departure to Belgrade. Overnight stay in Belgrade.
Day 10. Belgrade (B)
Breakfast at the hotel, free time till transfer to the Airport. End of the program.